How to Plant Aronia Berries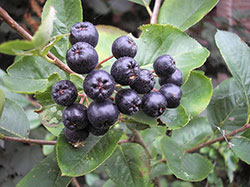 Aronia berries or Choke cherries as they are sometimes called, grown on attractive ornamental plants. The Aronia bush often grows up to six feet or more in height. And a fully mature plant can produce up to 38 pounds of fruit! There is a lot of potential in growing aronia berries. They are very forgiving to growing conditions and can adapt to most soil types. Aronia berry leaves produce spectacular color in the fall, and the plants are highly pest and disease resistant. They make great landscaping additions and are a profitable crop on a farm. In just a few years your tiny nursery aronia bush can become a fully grown six foot shrub. If you wait even longer, you could have multiple, very profitable, aronia bushes.
Aronias grow well in full sunlight, but is moderately tolerant of some shade. Expanding your amount of Aronia berries is simple! Just slice off the suckers (The new plants growing from the roots of the older plant). Then just transport the new plant with the roots still in dirt, to the new location. The aronia bushes grow in many types of gardens soils are are hearty. It is best to buy two year old plants from a reputable grower, like Aronia Berry Services of Northeast Iowa. For fruit production to be at it's best, the aronia berry plants do need watering. It is wise to water them once or twice a week when the conditions are dry. If there has been recent rainfall in your area make sure to keep that in mind.

The berries produced by aronia bushes have been used for hundreds of years. Natives and early settlers used them in medicine, food, and clothing dye. It has been just recently that it was discovered how healthy these berries can be. They are rich in antioxidants and can be eaten right off the bush, or made into a juice. The great thing about these berries is that they are good for you, AND they taste great.
Aronia Berries Iowa
Anioxidants help support the body's defense against aging and disease. Studies have proven that the aronia berry helps protect against colon cancer, heart attack, stomach problems, and breast cancer. This is only the beginning of the research into this fruit, but it is clear that aronia berries are very good for boosting the immune system and general health. Aronia berries have been made into jelly, juice, pepper sauce, syrup, and most popularly, wine. The deeper and richer the color of the berry, the higher in antioxidants and healthier it is.
There are only advantages to planting aronia berry bushes. They low maintenance and grow well under trees, in the sun, and are resistant to drought, insects, pollution, and disease. Whether you are looking to sell Aronia berries or grow them for personal use, it is guaranteed that you will be happy with the end product. Find out all of the health benefits you can receive by growing aronia berries! Remember to take a look at our aronia berries recipes often to learn how to use these great and healthy berries. If you have any questions about aronia berry plants find us or contact us today!